Introducing Ghalt, Deande and the end of the Universe
1/21/16
1/21/16
It's the end of the universe as we know it.
In the beginning, there was light. And it was pretty great. Billions of star systems, more or less putting up with each other's crap in the name of profit, power – or just trying to keep the peace. Then, while none of us were paying attention, systems began winking out of existence. Some interdimensional jackholes couldn't leave well enough alone and took suns. Whole suns.
Now look at us – fighting over table scraps as the Varlesi suck up what's left of the entire universe….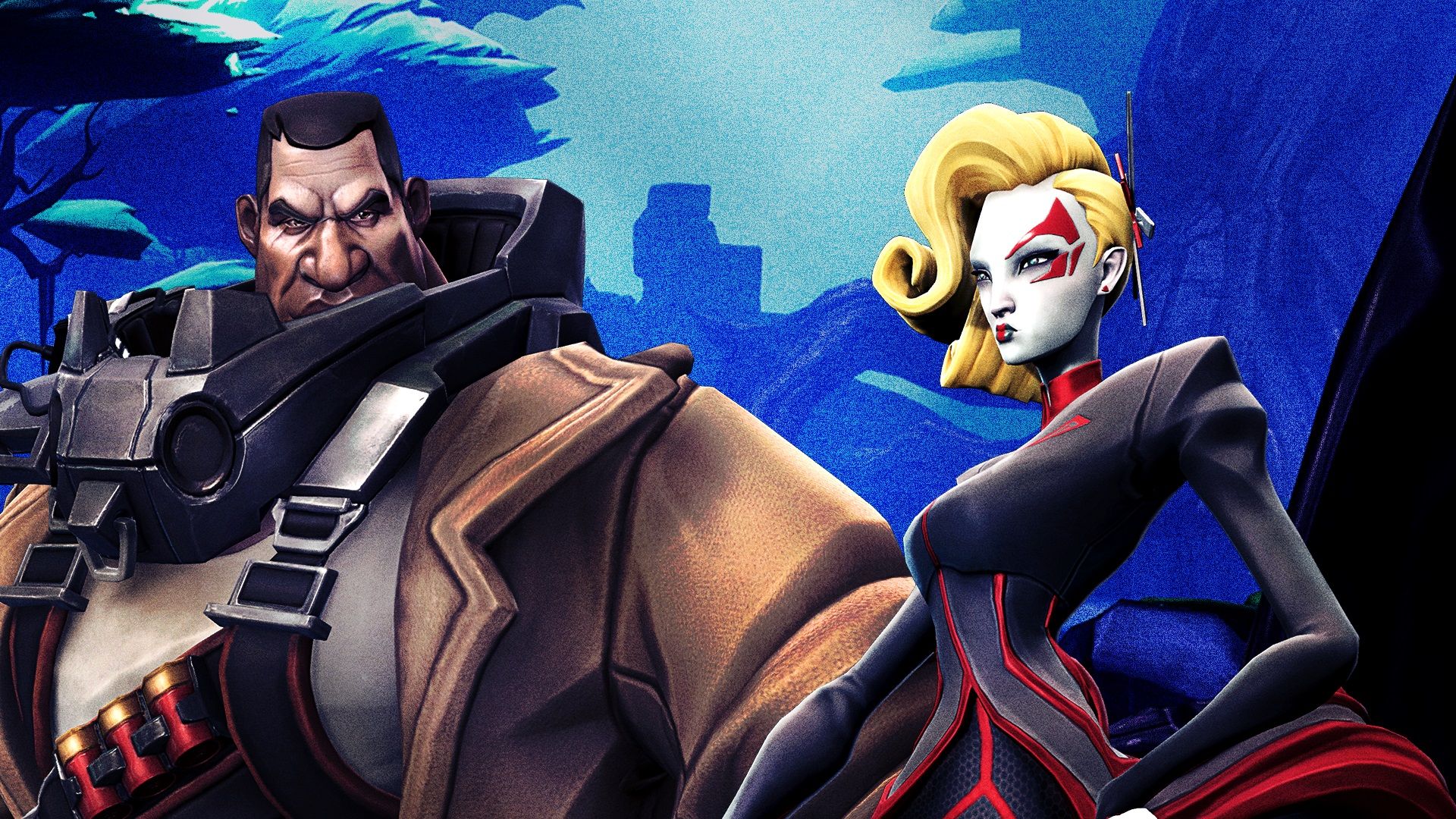 INTERCEPTED TRANSMISSION OF DEANDE, JENNERIT SPYMASTER
PERSONAL LOG OF DEANDE, SPYMASTER
// BEGIN ENCRYPTION_LVL: BioG.v.H33 //
Personal Log, THE_BATTLEBORN
y.19958, d.11
I heard it today – Ghalt's Call. I have long-prayed that the Empress would be able to return from the void. But, we're out of time. There's only one star left. And it's clear to me now that the situation is too dire for me to continue striking from the shadows.
For more years than I care to admit, I've used my position as Spymaster of the Jennerit Imperium to work in secret behind Rendain's back, sabotaging his plans and trying to effect change from within. It's clear to me now that I must conspire with unlikely allies and help lead a resistance against this tyrant. I do hope that Ghalt won't hold that time I tortured him against me. I've never said it aloud, but I have always respected that man.
INTERCEPTED TRANSMISSION OF TREVOR GHALT, BATTLEBORN'S LEADER
// ENCRYPTED; SOURCE: TREVOR GHALT / OUTGOING //
// TO: Kevin.Jacobs@upr
// FROM: trevor.ghalt@unknown
|| DATE: y.19958, d.5
Kevin:
If you haven't already heard, you will soon enough: I'm stepping down from my commission in the UPR. I'm doing it so that I can take the fight to Rendain outside the chain of command. Look, I don't expect you to be able to help, but I'm still going to ask for one last favor: I'd like to requisition some additional gear before I "officially" get shown the door. (I mean, might as well visit my buddy who runs the armory one last time before I leave, right?)
REVOLVER SHOTGUN
First thing I'll need is a replacement M8-R Revolver Shotgun. The easy-loading 8-shot magazine is perfect – I get to focus on shooting, not reloading all the damn time.
On that note: Normal shots work great against Varelsi or Jennerit, but I need something a little meatier for Sentry drones. What do you have in the inventory?
THE HOOK
Could use your help refining my energy hook. Don't get me wrong, it's doing a great job, yanking enemies into shotgun blast-range. That said, it never hurts to see if we can improve the effective range of the hook, right?
SCRAPTRAP
You know the detonators I've been using on my deployable traps? I'd like to see if we can add some more punch to the stun blast. I mean, I can only carry two of these things at a time, I gotta make each one count.
DUAL WIELD
I know I'm already asking a lot here, but could I get two? Nothing beats dishing out twice the pain, my friend.
We've been through a lot over the years and if we get through this, I'm going to owe you one helluva story and a full round of drinks. I know this little bar out in the Detritus Ring....
-T
 
PERSONAL LOG OF TREVOR GHALT, BATTLEBORN'S LEADER
// ENCRYPTED; SOURCE: TREVOR GHALT / PERSONAL LOGS //
|| DATE: y.19958, d.8
NOTES ON DEANDE
The war that's raging between the Varlesi-backed Jennerit Imperium and, well, the rest of the universe is breeding some seriously strange allies. Best example of that has to be Deande – Rendain's ruthless right hand.
As it turns out, being spymaster for the Jennerit Empire means that Deande is also really good at lying to Rendain without getting caught – at least probably. She's been plotting and scheming behind-the-scenes since Rendain snatched control of the Empire. These days, Deande runs the Jennerit rebellion from the shadows and last I checked, she was planning a major sabotage operation on Tempest.
She wants to join forces with one of the few non-Jennerit she respects – me – but that doesn't mean I can trust her. She is a spymaster who once tortured me, after all. I wouldn't be a good leader if I didn't take stock of her capabilities.
Here's what I know about Deande from my previous tangles with her:
PRIMARY WEAPON
Tessurium War Fans capable of lightning-quick close range combo strikes. Now, I know the Jennerit are the best in the galaxy at the frightening manipulation of matter at the sub-atomic level, but how she throws an infinite amount of the fan blade knives…that's even impressive for an old veteran of wars among the weirdest beings in the universe.
HOLOTWIN
Deande materializes one of the most effective hologram-AI constructs I've seen, while disappearing from sight herself. After eight seconds or death – whichever comes first – the decoy explodes. Yeah, I'm not getting fooled by that ever again. I hope.
BURST DASH
Sprints straight into battle, knocking back enemy combatants and weakens them so they become less effective in battle. I'll bet this is nasty if she does it while hidden.
BLINK STORM
Deande's ultimate ability has been known to unleash an onslaught of rapid strikes that can stun up to five enemies while doing massive damage. She's like a ghost – there and then not. I've seen her do this once before and managed to escape, the other guy wasn't so lucky. And you just better hope she never focuses all of her storm on you.