The Battleborn DLC Plan Update
8/31/16
8/31/16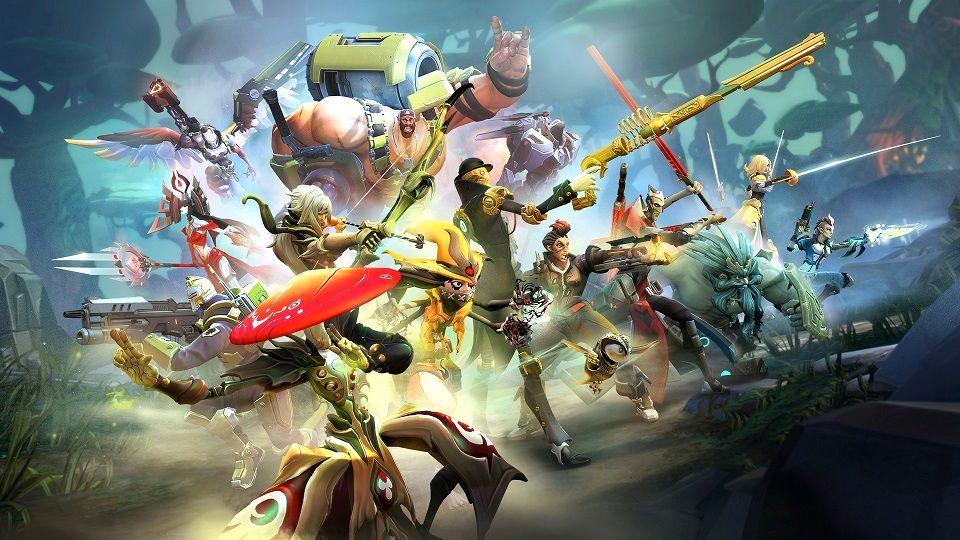 We've been cranking away on Battleborn all summer long and we continue delivering lots of free content to your doorstep with new heroes, maps, modes, and more. BUT, we've also been reprioritizing aspects of the game that you – our awesome fans – told us were important.
As a result, some things are taking a little more time to complete than originally planned. The good news is that the first of the Battleborn Story Operation is on its way to you soon. Keep reading below for an update on where we're at and what is coming next.
Before we go too deep into Battleborn's upcoming Story Operations, let's quickly recap all the sweet updates and freebies we've released since the game launched in May.
Two of five more FREE heroes, with the third just days away! That makes 28 heroes for everyone that bought Battleborn – and two more free heroes coming your way this fall and winter!
Broadcaster tools
3 new PVP maps, one for each mode: Monuments (Incursion), Outskirts (Meltdown) and Snowblind (Capture)
Weekly hot fixes
Ongoing matchmaking adjustments
Double XP, Double Credits, and Play with the Devs events
SHiFT Codes for skins and loot packs
Special experiences like Hardcore Spotlight and Chaos Rumble
That catches us up. So what's coming next? And what's the deal with the Story Operations? Keep reading!
WHAT'S NEXT?
Below is our expected timeline to release the next rounds of free and premium DLC in Battleborn. Development can take a bit more time than expected, so there's always a chance that some content may get pushed out a little later than anticipated. It's important to us that you know what to expect and can get ready for the next big update.
Here's a look at what's coming up next:
FREE DLC CONTENT
Three more heroes, bringing the total to 30

Kid Ultra – coming this Fall
Battleborn #30 – coming this Winter
Ernest – coming September 1, now in Early Access
Pendles – released August 4
Alani – released May 31

New PVP mode – Face Off – coming October 13
Another new PVP mode – coming this Fall
PREMIUM DLC CONTENT
DLC 1 Story Operation "Attikus and the Thrall Rebellion" - coming October 13
Heroes 29 & 30 Early Access, each with a hero key, coming this Fall and Winter
DLC 2 Story Operation "Toby's Friendship Raid" - coming this Fall
DLC 3 – 5 Story Operations - coming later this Winter
Each DLC Story Operation release includes new, unlockable skins, taunts, and titles
MARKETPLACE CONTENT
Groups of skins and taunts each month
Spoooooky skins for Halloween
Consumable XP Boosts
WHAT'S THE DEAL WITH STORY OPS?
Every Story Operation is playable solo or co-op with up to two buddies. The Operations themselves are side stories that expand on some Battleborn hero's lore, sending you right into the middle of the action. They are shorter than the main Story Missions and highly replayable. Each playthrough moves you towards unlocking more lore, skins, titles, and taunts. Not to mention, the dialogue, enemies, and objective change depending on your current playthrough. 
The first of five DLC Story Ops is just around the corner! "Attikus and the Thrall Rebellion" is releasing October 13, 2016, along with some other content we'll get to in a moment. In this Story Op, relive the days of Attikus leading the Thrall rebellion in the Jennerit slums.
Then prepare for the DLC 2 Story Operation, "Toby's Friendship Raid," later this Fall. It's one thing to try and call Toby "cute." It's another to try and get away with stealing his mechsuit.
We'll be showing off new and upcoming Battleborn content, including "Attikus and the Thrall Rebellion," at PAX West!
WHEN: Friday, September 2 at 4pm PT/ 7pm ET
All five of the upcoming Story Ops are included in the Season Pass and Digital Deluxe editions of Battleborn. If you're not already on-board for the DLC, each Story Op will cost $4.99USD.
NEW PVP MODE – FACEOFF
Alongside the first DLC Story Operation comes a FREE Competitive Multiplayer mode, Face Off!
Two teams fight against each other to exterminate the invading Varelsi. Each team must coordinate between defense and offense to kill Varelsi, collect their masks and deposit them for points. The first team to 500 points wins. Of course killing Varelsi makes them mad – Be ready for intense, multi-phase battles! Steal masks from enemy players and be quick to pick up masks your teammates left behind.
We'll have more information on Face Off closer to its release on October 13.
We'll keep you in the loop on Battleborn DLC with regular updates, so check back regularly. You can also get the latest Battleborn info on Twitter, Facebook, Instagram, and YouTube.