Open Beta Challenges Reward
5/3/16
5/3/16
Congratulations, badasses! You collectively completed the Battleborn Open Beta Challenges! That is some epic global teamwork. As your reward, we shoved three badass golden skins into this SHiFT code:
SWKTB-356W6-XC5RJ-XK6T3-HJ333
Redeem the code above for Shayne & Aurox's "War and Peace" skin, Benedict's "Gold Eagle" skin, and ISIC's "I'm the Root of All Evil" skin.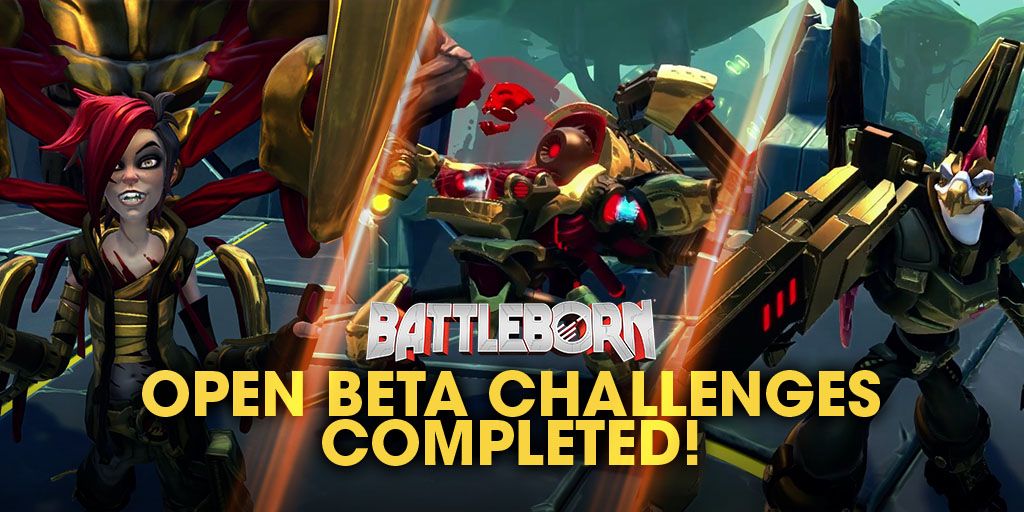 Complete 1 million Competitive Multiplayer matches
Complete 1 million Story Mode episodes
Collect 15 billion Shards
What you actually did:
Over 1,100,000 5v5, 10-player Competitive Multiplayer matches completed
Over 1,400,000 Story Mode episodes completed going solo or with up to a 5-player co-op team
A whopping 27 BILLION Shards collected
….and you did all of this in LESS THAN 5 DAYS!
Here's how to redeem the code:
This code is available for everyone – yes, everyone – who purchases the retail version of Battleborn, on all platforms, all around the world. This code won't be around forever, but we'll give you plenty of time to redeem it.
Battleborn is AVAILABLE NOW on PS4, PC, and Xbox One!
1. Install and boot up the Battleborn game
2. Go into the "Extras" menu from the main menu and select the "SHiFT" section
3. Sign up for a SHiFT account or log in if you already have one, then redeem the code. SHiFT accounts are free.
4. Once you redeem the code, SHiFT will display confirmation when the code is successfully redeemed.
Now that you've redeemed the Open Beta Challenges Reward code, head to each character's Command screen to check out their new skin, or jump into a match and choose the skin during character select. BAM! You are now a golden badass.