6/23/16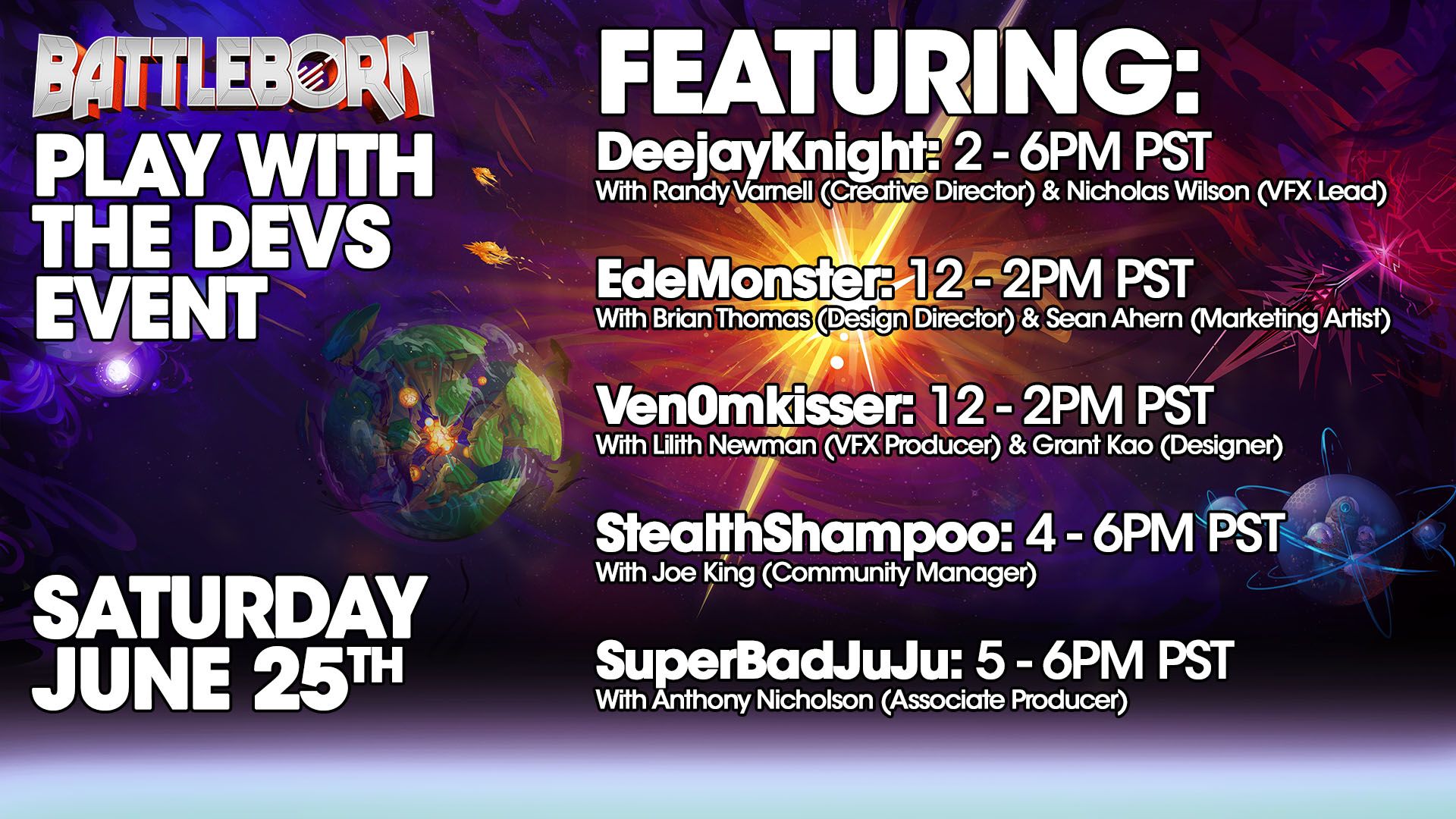 Last week, we teased info about our next community event. This Saturday (June 25th), we'll be holding our first Play w/ The Devs event!  Below you'll see schedule of streamers who will be hosting Gearbox developers in their streams at certain times throughout the day:
EdeMonster with Brian Thomas (Design Director) and Sean Ahern (Marketing Artist)
Ven0mkisser with Lilith Newman (VFX Producer) and Grant Kao (Designer)
DeeJayKnight with Randy Varnell (Creative Director) and Nicholas Wilson (VFX Lead) 
Stealth Shampoo with Joe King (Community Manager)
SuperBadJuJu with Anthony Nicholson (Associate Producer)
Not only can you check out these streams to see the Devs playing, you may also be paired up with one yourself! From between the hours of 2pm and 8pm, Gearbox employees of many different disciplines will be playing Battleborn and interacting with the community. You'll know you're in a lobby with a Gearbox Developer if you see the Dev title. 

Keep an eye out and if you see a Dev in your lobby, make sure to say hi!
Ok, real talk: playing with the Devs is cool and all, but what's really in it for you? A couple things: first, we'll be celebrating the Play w/ The Devs event by enabling Double Credits in all modes from Friday until Monday. That means you'll get those loot packs faster and can even get started early on saving up for Pendles! Secondly, we'll be releasing a SHiFT code for TWO skins – Oscar Mike's "Tango Tango" (Gold) skin and Rath's "A Dark Night" (Cyber) skin – on Saturday morning through the Battleborn Twitter account (@Battleborn) and the Facebook page. This SHiFT code will only be available for a short time, so make sure to follow Battleborn on Twitter and Facebook to keep up with the latest on the SHiFT code and its release! Learn more about these events in this post. 
This week's hot fixes see us temporarily disabling some gear that we mentioned last week might need adjustment.  As we've said, it's very important to us to make sure we're giving everyone as level a playing field as possible and when a piece of gear is performing in ways that aren't intended, we feel the responsible and fair thing to is to disable it temporarily until the issue has been resolved.  As soon as we have news on when these pieces of gear will be returning, we'll let everyone know immediately. As always, each week's hot fixes begin rolling out on Thursdays at Noon PT/3pm ET.
Reduced the Lifesteal percentage granted by Oath of the Sustained.
 Adjust Character Select timer to 90 seconds for PvP maps.
Temporarily removed M3.Shepherds from Incursion for bug fixes.
The following pieces of Gear (mentioned provisionally last week) are being disabled temporarily:

Lorrian Purse Cutter
Vigilance Link
One-4-All Shield Array

This week's Community Spotlight is on veteran and much beloved Gearbox forum Moderator, Psychichazard. Psychichazard has been one of our forum moderators for literally YEARS and we're proud and lucky to have him helping us lead our community into the future! Learn more about the man that is frequently known as "the Marquis of the Gearbox forums" by heading over to said forums and reading our Community Badass feature.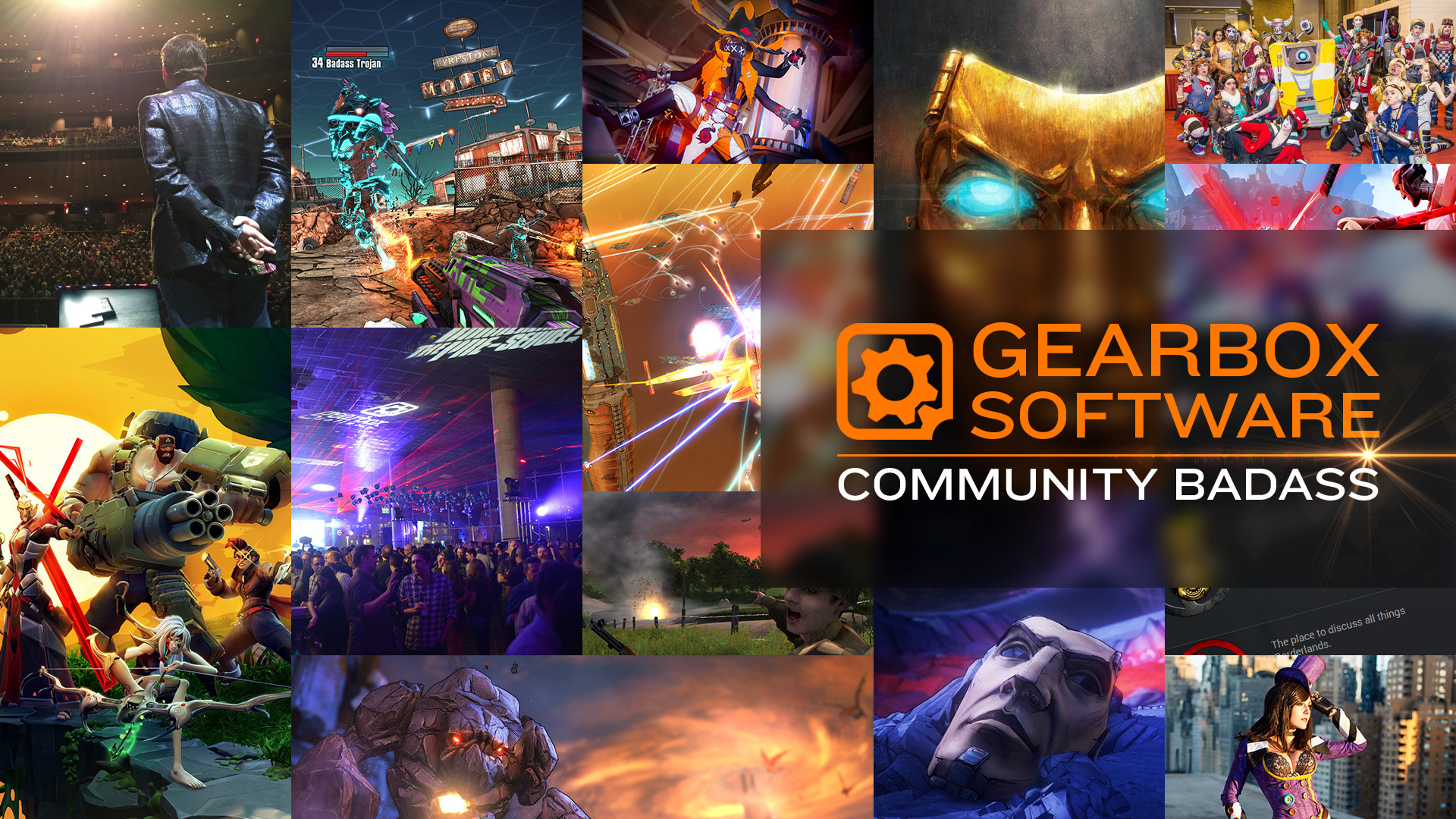 We're hard at work developing lots of content for Battleborn. From the five DLC Packs and four more heroes, to new maps, modes, and several community requested features. Needless to say, there will be lots to talk about over the next few months and the time has come to get the conversation started. Here are a few things you can expect to see soon:
New PVP Maps: Yes, they're on the way! Three more maps are coming to Battleborn in a couple of weeks.
Versus Matchmaking Changes: Next week we will be revealing and releasing a new iteration to the matchmaking system. These changes are being made with the intent of further refining the matchmaking experience for players everywhere. Stay tuned to the Battleborn news blog for more details.
Broadcaster Mode: Broadcaster Mode is something that you guys have been asking for and something we've wanted to do for a while. This feature will let you broadcast and stream matches through third-person camera controls. We're hoping to bring you Broadcaster Mode next month.
In-game Reporting:  It's important to us to give each player the best Battleborn experience possible and players who cheat or disrupt others' ability to play the game ruin that experience. We're working on an in-game reporting feature to allow you to flag players who are suspected of cheating, abandoning games, or ruining the overall experience. Our goal is to include the reporting feature in the next major patch update for July.