Winter Update Arrives January 19
1/11/17
1/11/17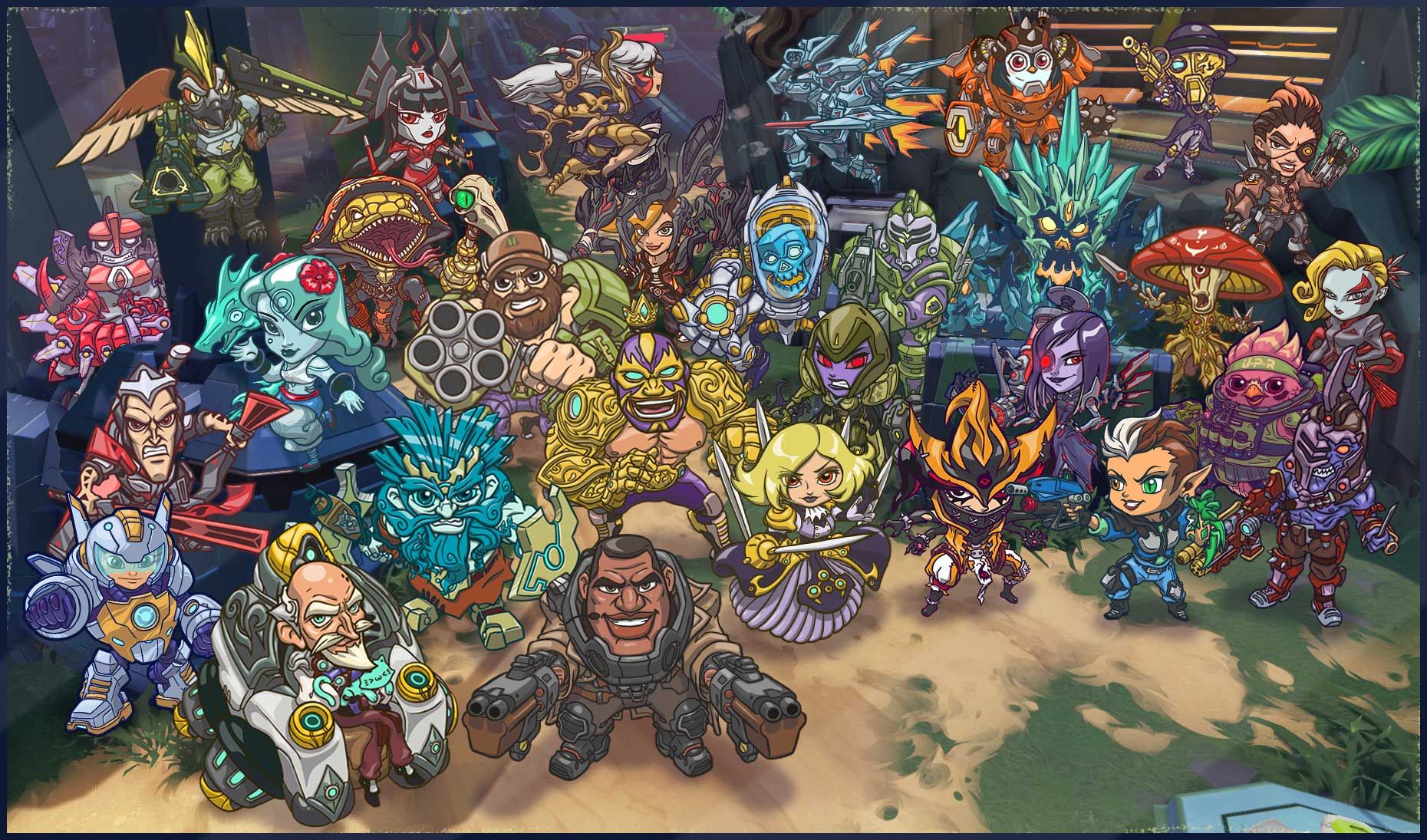 Keep your swords sharp and rockets primed, Battleborn's mega Winter Update releases on January 19! This is by far the biggest Battleborn content drop yet, with brand new training modes, draft mode, a major user interface overhaul, and a whole lot more. Whether you're new to Battleborn or a hardened veteran, you'll need to check out the Winter Update when it goes live next week.
You've seen the Winter Update livestream and read the overview, but there's something we haven't mentioned: Arriving with the update is Early Access to Beatrix, the 30th Battleborn hero, AND the third DLC Story Operation, "Oscar Mike vs. The Battle School." 
WINTER UPDATE RELEASE
WHEN: Thursday, January 19 at 2pm PT/5pm ET for all regions
BEATRIX EARLY ACCESS
Precise. Deadly. Obsessively hygienic – The 30th Battleborn hero is a menace to be reckoned with. Wielding her prosthetic syringe arm, Beatrix spreads debuffs and disease wherever she goes. A master at manipulating life, her prowess for science combined with her Jennerit ruthlessness makes her one extremely qualified, and EXTREMELY DANGEROUS physician.
Beatrix is always ready to terminate an uncooperative subject… er… enemy. Are you ready to be part of her medical trials? Beatrix releases on January 26 for all players and can be unlocked with 47,500 earned credits. Can't wait? Eager participants with the Season Pass get early access and a hero key to instantly unlock Beatrix starting January 19th. 
Beatrix Early Access: January 19 starting at 2pm PT/5pm ET for all regions
Beatrix Official Release: January 26 starting at 2pm PT/5pmET for all regions
DLC STORY OPERATION 3
Be advised: Battle School is not for chumps! Fall in line with the Battleborn as Oscar Mike takes you through the ringer in the third Story Operation, "Oscar Mike vs The Battle School." Dodge traps, complete obstacles, and fight your way through rigorous combat. Get the syllabus and take notes – the Gearbox Devs are taking a look at this Story Operation during this week's livestream!  
WHEN: Thursday, January 12 at 3pm PT (6pm ET)
Experience these highly replayable Story Operations solo or co-op with up to two buddies. Each time you complete Battle School, you can unlock new lore, skins, titles, and taunts. Not to mention the dialogue, enemies, and objectives change depending on your current playthrough. 
Access to the DLC Story Operations are included Season Pass and Digital Deluxe. If you already own Battleborn, snag the Season Pass to get access to the first two DLC Story Operations today, "Attikus and the Thrall Rebellion" and "Toby's Friendship Raid," as well as "Oscar Mike vs The Battle School" and the next two Story Operation upon release. If you're not already on-board for the DLC, each Story Op can be purchased individually for 700 Platinum in the in-game Marketplace.
Stay up to date on all of the Battleborn content releases and events. Follow Battleborn on Twitter, Facebook, Instagram, YouTube, and follow Gearbox Software on Twitch.