6/6/17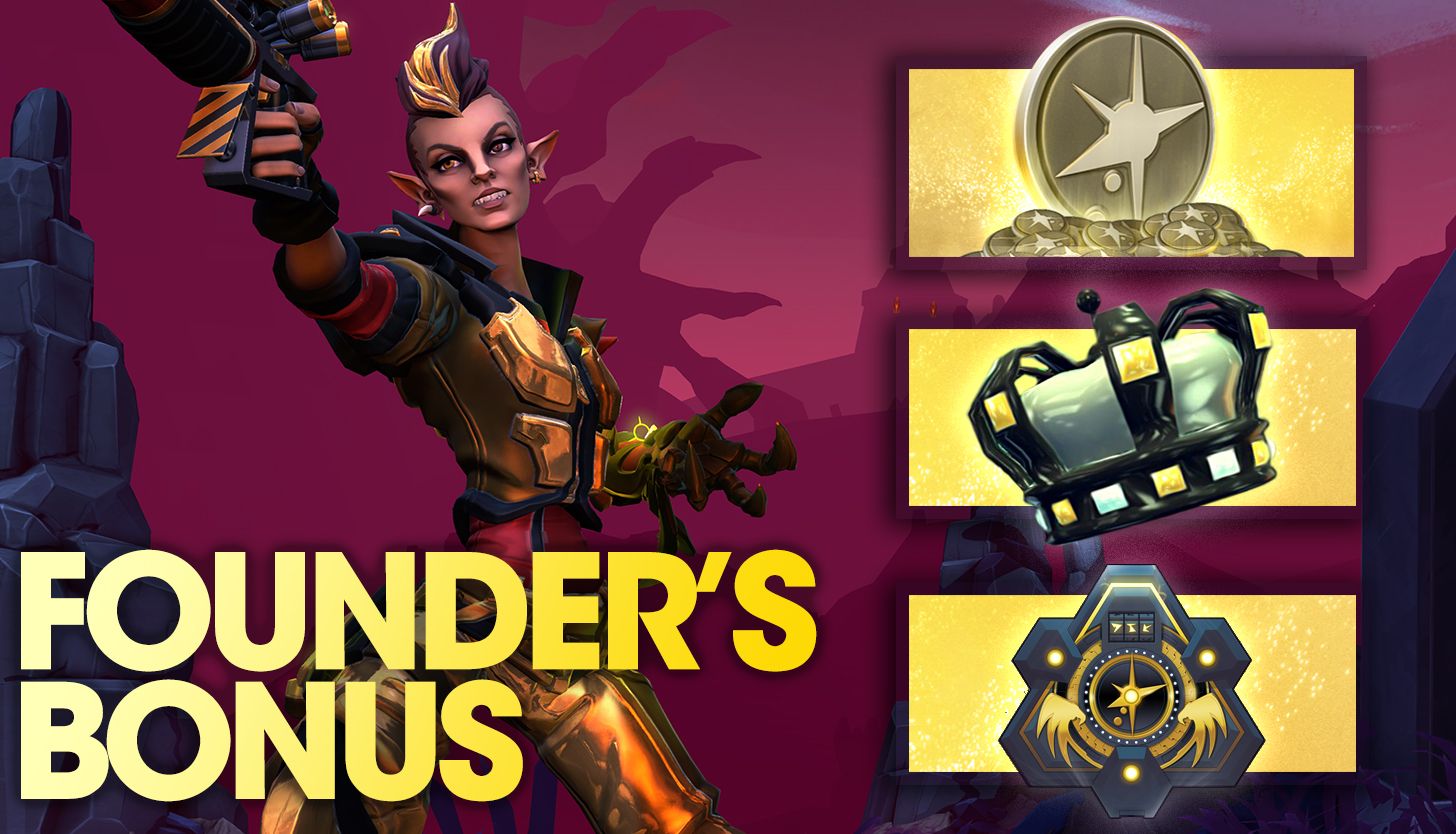 We're excited to launch the Battleborn Free Trial, and even more excited about what this means for the dedicated Battleborn community. With this Free Trial, we hope to bring lots of new players into Battleborn to experience the incredible, chaotic battle for the very last star in the universe.
It has been a joy and a privilege to interact with the Battleborn community over the past year, and we want to show you how much you mean to us. We consider you our Founders and we've created something special just for you. Everyone who purchased and played the retail version of Battleborn prior to the release of the Free Trial on June 6th, 2017 has been credited the Founder's Bonus. When you log into Battleborn, the Founder's Bonus will already be granted to your account. Head to your Command center to open the new loot packs, equip your title, and spend that sweet Platinum.
FOUNDER'S BONUS CONTENT
1,000 Platinum
50,000 Credits
Exclusive "Founder" player title
Gold skins for Mellka and Deande
5 Core Loot Packs
1 of each Command Faction Pack (5 total)
1 Exclusive "Founder Loot Pack" that includes…

1 guaranteed piece of legendary gear
1 guaranteed piece of legendary boss gear
2 guaranteed pieces of common (or better) gear
Guaranteed exclusive legendary "Shard of Solus" gear item (a 0 activation cost LLC Shard Generator)
4 guaranteed Flair items including exclusive "Founder's Crown" Flair item
How do I know if I received the Founder's Bonus?
Everyone who purchased and played the retail version of Battleborn prior to June 6th, 2017 has been granted the Founder's Bonus. To confirm you received the Founder's Bonus, head to the Command center. On the top left-hand of your screen, you should see an additional 1,000 Platinum and 50,000 Credits by your account name.
Under the Gear tab, you will see several new loot packs, including one named "Founder Loot Pack." If you cannot access the Gear tab, just jump in a match or two, rank up, and then the Gear tab should be unlocked. The Gear tab is locked for any player below Command Rank 3.
The "Founder" title can be found and equipped from the Career tab. Mellka and Deande's gold skins can be viewed in their respective character pages, and equipped during the character select phase of a match or mission.
If you're a Founder and having trouble accessing the Founder's Bonus content, please reach out to us at 2K Support.
Wait, Flair? What's that?
Flair is a new cosmetic addition to Battleborn! Special pieces of gear will now have visual components that show up on your hero during a match or mission. There are all kinds of flair items, such as ears, silly hats, horns, and many more to further customize your hero and give them even more attitude. There is a chance to obtain a piece of gear with Flair from any loot pack although gear with Flair is a guaranteed drop from the Magnus Pack, a new loot pack introduced with the arrival of the Free Trial.
To see your Flair on your hero, use Shards to activate that piece of Gear during the match. Once you activate that piece of gear, the Flair will show up on your hero. There are three main types of gear: Horns, Ears and Hats. If you have more than one piece of gear with that particular Flair type in a Loadout, Flair from the gear you most recently activated will be displayed. You can have one of each type active at a time.
Stay In Touch With Battleborn
Head over to this FAQ for in-depth look at what the Free Trial entails. Follow Battleborn on Twitter, Facebook, YouTube, the blog, and Instagram for all the latest news and hang out with the community on Reddit, Twitch, and the Gearbox forums.